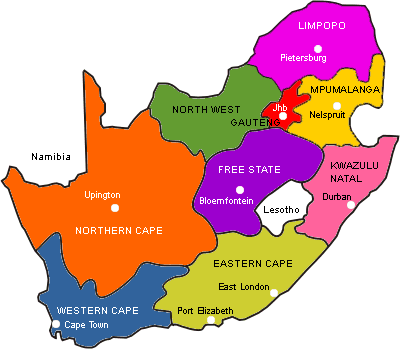 General information about South Africa
Official Name
Republic of South Africa
Area
1,219,090 square km
Population
50,59 m (mid 2011 estimate by Statistics South Africa)
Capitals
Cape Town (Legislative)
Pretoria (Administrative)
Bloemfontein (Judicial)
Head of State
President Matamela Cyril Ramaphosa
Main Languages
11 Official languages
English is widely spoken
Religion
Predominantly Christian. Freedom of worship is guaranteed by the Constitution
Form of State
Broadly federal, comprising a central government and nine provincial governments
Legal System
Based on Roman Dutch and English Law and the 1996 Constitution of the Republic of South Africa.
National Legislature
Bicameral parliament, elected every five years, comprising a 400-seat National Assembly and a 90-seat Council of Provinces
Electoral System
List-system with proportional representation based on universal adult suffrage
South African Public Holidays
Fixed: 1 January, 21 March, 5 April, 27 April, 1 May, 16 June, 9 August, 24 September, 16, 25 and 26 December
Variable: Good Friday and Easter Monday
International dialing code
+27
Time
GMT + 2 hrs
Currency
Rands and Cents: R1 = 100 cents. International symbol: ZAR.
Exchange Rate
€1=R10,0643 (average in 2011)
GDP
US $ 363 910 425 628 (current US$ in 2010)
US $ 528 423 000 000 (PPP)
GDP per Capita
US $ 5 7280 (current US $ in 2010)
US $ 10 565 (PPP in 2010)
Real GDP Growth
Real GDP at market prices increased by 2,8% during 2010.
Official Inflation Rate
The consumer price index in May 2012 compared with that in May 2011 was 5,7%
Main Export Products (2011)
Precious stones and metals, coal, various other minerals, motor vehicles and components, machinery and equipment, iron and steel, food products
Main Import Products (2011)
Petroleum products, machinery, electric apparatus, motor vehicles and components, chemicals and related products, other manufactured products
Main Trading Partners (2011)
China, Germany, USA, Japan, United Kingdom, India.
Trade with the EU
If the EU is taken as a common customs territory, it represents SA's biggest trading partner, accounting for 26% of the value of South Africa's trade flows in 2011.
Trade with Belgium and Luxembourg
In 2011 Belgium ranked 16th on the list of South Africa's most important trading partners whilst Luxembourg ranked 83rd.