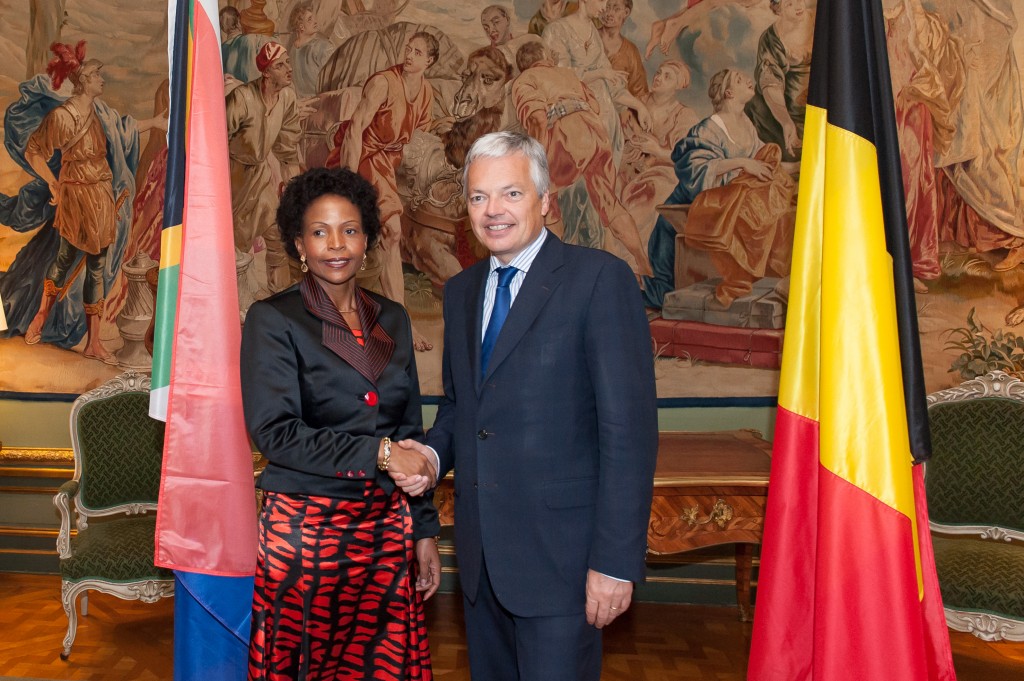 HE Ms Maite Nkoana-Mashabane, Minister of International Relations and Cooperation of South Africa had bilateral consultations with HE Mr. Didier Reynders Deputy Prime Minister and Minister of Foreign Affairs of Belgium on 12 June 2013 in Brussels.
The two Ministers reviewed the state of bilateral cooperation and exchanged views on a host of issues ranging from global peace and security, including the Great Lakes region, and the state of the global economy.
With regards to bilateral relations, the Ministers expressed satisfaction with the increased levels of trade, investment and the deepening cooperation between the two countries. Minister Nkoana-Mashabane briefed her counterpart about the socio-economic and political developments in South Africa, including the National Development Plan (NDP) which is the overarching plan for South Africa's development, as well as the New Growth Path(NGP) and the Industrial Policy Framework (IPAP 3), which are the economic and trade pillars of the NDP, respectively.
Minister Nkoana-Mashabane noted that Belgium is South Africa's 12th largest export destination globally, 4th in the EU, with total exports from South Africa to Belgium at R15.3 billion and total imports t R10.3 billion in 2012. Belgium ranks as the 6th biggest investor in South Africa, and 4th biggest source of official development from Europe, with a total €50 million committed until 2016. In the same vein the Ministers noted that Belgium remains an important source of tourism for South Africa, with a record tourism figure of 44 125 in 2012, placing her in the 15th position globally as a long haul source of tourism.
The Ministers expressed satisfaction with preparations for a large Belgian trade and investment mission to South Africa to be led by His Royal Highness Prince Phillipe in October 2013. They expressed hope that this mission will lead to the expansion and deepening of trade and investment between the two countries.
The Ministers also exchange notes on the situation in the Great Lakes, and expressed their concern about peace and security in the region as well as the deteriorating humanitarian situation. They reaffirmed their support for the UN/AU Framework for the DRC and the Great Lakes region signed in February 2013 as an appropriate and significant response to the persistent insecurity in the Eastern DRC and the Great Lakes region. In this regard they agreed to support the on-going process to stabilise the region, particularly the Eastern DRC.
The Ministers reaffirmed the correctness of a peaceful resolution to the Syrian conflict, and expressed their support for the success of the Geneva II talks, which should be inclusive of the major role players.
Issued by the Department of International Relations and Cooperation