Members of the South African Parliament's Portfolio Committee on Science and Technology undertook a successful study tour to Brussels from 23 to 25 July 2012. The Committee is responsible for overseeing the work of the Department of Science and Technology and for processing legislation pertaining to science and technology in the South African National Assembly. The delegation visiting Brussels comprised seven Members of the Committee, led by its Chairperson, Dr Nqaba Ngcobo.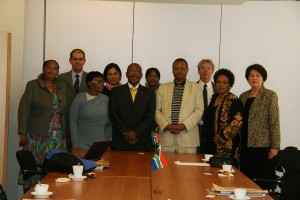 Different services of the European Commission presented to the Committee on South Africa's various science and technology partnerships with the European Union. These briefings included analyses of the current levels of cooperation and highlighted opportunities and challenges related to the further strengthening of cooperation.
Officials of the European Commission's Directorate-General Research and Innovation presented on South Africa's very successful participation in the EU's Seventh Framework Programme (FP7) for Research as well as the plans for the future Horizon 2020 Framework Programme. Specific attention was paid to South Africa's participation in the European Developing Countries Clinical Trials Partnership (EDCTP) and cooperation with the European Commission's Joint Research Centre (JRC).
The Committee expressed a strong interest in South Africa's participation in the European researcher mobility and training programmes, respectively presented by the European Commission's Directorate-General Education and Culture, the European Research Council (ERC) and the Cooperation in Science and Technology (COST) Programme. The Members also discussed new opportunities for South Africa to participate in the EUREKA programmes for industrial research and innovative small and medium enterprises.
Furthermore, the Committee received a detailed thematic presentation on cooperation in the field of information and communication technology research and innovation by the European Commission's Directorate General Communications Networks, Content and Technology. In addition, the Directorate-General Enterprise and Industry presented on space cooperation between South Africa and the EU, including the plans for the extension of the European Geographic Navigation Overlay System (EGNOS) satellite navigation system to South Africa. The delegation also visited the European Parliament and received a briefing on the Parliament's Written Declaration on support for radio astronomy cooperation between Africa and Europe.
The European Union is one of South Africa's most important partners for international science and technology cooperation. Informed by their engagements in Brussels, the Portfolio Committee is well equipped to undertake parliamentary oversight over this strategic relationship.