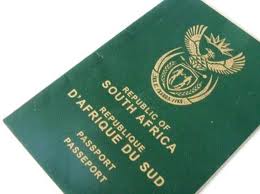 Details in this document : New Immigration Rules

General
A list of countries exempted from South African visa requirements is available at the following website: www.home-affairs.pwv.gov.za/visa_schedule.asp
Holders of Belgian and Luxembourg passports are exempted from visa requirements up to 90 (ninety) days for holiday and business purposes only.
To download application forms or more information please visit the following website:
http://http://www.home-affairs.gov.za
Visa requirements and info
REPUBLIC OF SOUTH AFRICA: GENERAL ADMINISTRATIVE ISSUES
Foreigners subject to South African visa control who wish to visit the RSA for holiday, business or transit purposes must be in possession of valid and acceptable passports/travel documents and visas. Visas must be obtained at the South African Missions abroad prior to travel to South Africa.
Consular Section is opened for public Monday – Friday, 9.00 – 12.00
Processing period for visas is 10 working days.
Visa application form (BI-84E) must be completed in English and in black ink only.
All documentation accompanying the application must be in English.
The passport must have at least two blank pages upon application.
Please note that the applicants may submit the application in person. The documents may be collected in person or by courrier.
Additional documentation to prove the bona fides of the visit such as proof of registration of the company may be requested.
Visa FEES
The prescribed fee is 43 Euro
SCHEDULE OF FEES
Fees applicable only in Belgium and Luxembourg (effective 1 April 2011)
Visas and Temporary Residence Permits

Visitor's/Volunteer/Research/Sabbatical
43 Euro
Work/Exceptional Skills Permit
152 Euro
Student Exchange Permit
43 Euro
Cultural /economic/social exchange programme
43 Euro
Intra Company Transfer Permit
152 Euro
Medical Treatment Permit
43 Euro
Own Business
152 Euro
Quota Permit
152 Euro
Relative's Permit – Spouses and Minor children of South African Citizens
and Permanent Residence holders
Free
Relative's Permit – Adult family members of South African Citizens
and Permanent Residence holders
43 Euro
Retired Persons Permit
43 Euro
Study Permit
43 Euro
Treaty Permit
43 Euro
Passports and Travel Documents

Identity Document & Re-issue
12 Euro
Child Passport
34 Euro
Regular Passport
34 Euro
Maxi Passport
51 Euro
Emergency Travel Certificate
12 Euro
Temporary Passport
15 Euro
Replacement of valid passport that runs out of visa pages
34 Euro
Replacement of Lost Regular/Child/Maxi/Temporary Passports and Emergency Travel Certificate
Double Fee
Citizenship

Application for Exemption in terms of Section 6(2)
Retention of South African Citizenship
25 Euro
Application for Exemption in terms of Section 26(4)
Exemption from Loss of South African Citizenship
25  Euro
Resumption of SA Citizenship in terms of section 13 of Act 88 of 1995
25 Euro
Issuing of duplicate citizenship certificate (including application for certificates issued in terms of Section 16 of Act 88 of 1995)
8 Euro
Civic Services

Birth/Marriage
6 Euro
Letter of confirmation of Marital Status
4 Euro
Change of Forename (major)
12 Euro
Change of Forename (Minor)
6 Euro
Change of Surname
27 Euro
Change of Surname(Minor)
6 Euro
All other permits and civic matters: By appointment only!
- Applications for a study/work/voluntary/ or permanent residence – permits
- Applications for a new South African passport – Birth registration – Identity Document – Marriage Certificate – Birth Certificate etc.
For application forms and all requirements, please forward an e-mail to brussels.consular@dirco.gov.za
Payment of deposits when applicable have to be done by bank payment to:
South African Embassy – Montoyerstraat 17 – 1000 Brussels – Bank acc. no: BE20 7350 2551 7856 – BIC KREDBEBB
Refund of deposit or payment of administrative fee
Refund of deposit: Submit your passport and original receipt of payment, refunds will only be done by bank transfer, please allow 2 weeks processing time.
Payment of administrative fee: letter from the Department of Home Affairs and your passport with relevant permit.
Important notice for South African citizens travelling with Emergency Travel certificates (ETC):
Temporary passports have been discontinued with effect of 1 September 2014. Emergency Travel certificate (ETC) will be issued for emergency travel purposes Only (e.g passport lost abroad, medical conditions and family bereavement.
Important notice for South African citizens travelling to South Africa:
SOUTH AFRICAN CITIZENSHIP AMENDMENT ACT, 2004-10-25 (ACT NO. 17 OF 2004)
The Amendment act repealed section 9 of the South African Citizenship act, 1995, which regulated the use of the citizenship or nationality of another country by a South African dual citizen.
This inter alia means that the system of exemptions/letters of permission to make use of a foreign passport has now been terminated. No further applications in this regard may therefore be processed.
South African citizens MUST enter and leave South Africa on their South African passport.
Driver's License
It is of vital importance that you are in possession of an international driver's license, which can be applied for at your local Community.
Important information
-Allow 10 working days for processing of visa/permit applications.
-Application for a South African passport/Birth certificate etc. can take up to 5 months to be finalised by Home Affairs in Pretoria.
- Incomplete applications will not be accepted by the Embassy.
Registration of South Africans Abroad (ROSA)
For registrations of South Africans abroad please visit the website www.dirco.gov.za
Appointments
Address: South African Embassy – Rue Montoyer 17-19, 1000 Brussels
Visiting hours: Monday – Friday 09.00 – 12.00
BY APPOINTMENT ONLY
Telephone enquiries: Monday – Thursday 13.30 – 16.00
Friday 13.30 – 15.30
Telephone Numbers: Switchboard 00 32 (0) 22 85 44 53/64/92
After hours number – For Emergencies ONLY : 00 32 (0) 475 760270
Fax number: 00 32 (0) 25 14 25 05
E-mail: brussels.consular@dirco.gov.za